Welcome to Karma!
Welcome to Karma Cigar, Indiana's Premier Cigar bar and lounge. We offer a wide variety of cigars from mild, medium, to full, from Arturo Fuente OpursX, Liga Privada, Viaje, Roma Craft, Ashton, Camacho, AVO, Cohiba, CAO, Rocky Patel, Romeo, Montecristo as well as an extensive selection of boutique cigars including Patoro, PDR, My Father, Asylum, Hirochi Robaina and Oliva cigars. Complimenting our cigars is our beer and wine listings which offers a worthwhile experience for all our guests. Visit our 3200 square feet lounge in
Merrillville, Indiana
just west of I65 and enjoy a cigar, drink with good friends. Relax and enjoy yourself at Karma as we strive to give you the very best in cigars, spirits, and atmosphere for your pleasure.
Avo Event July 21, 2017 6pm – 9pm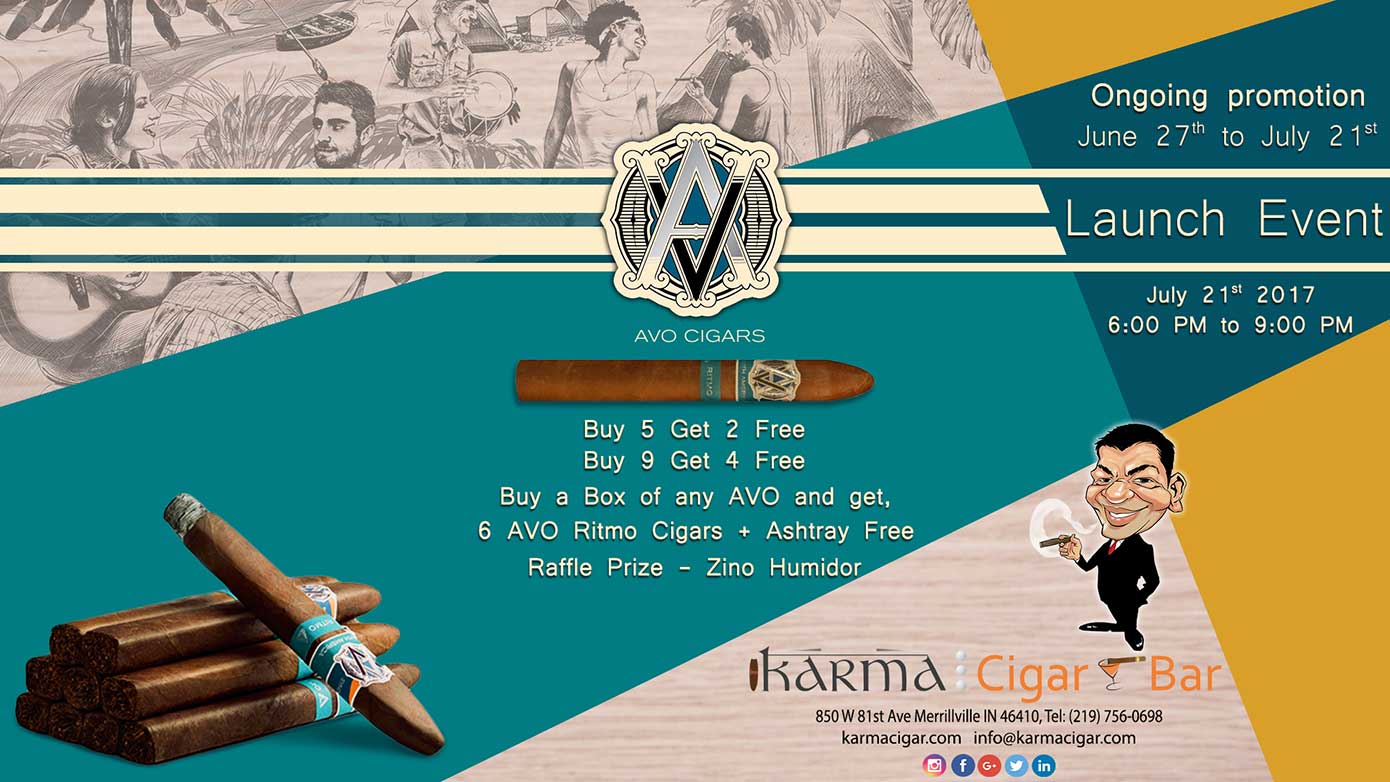 Join us this Friday, July 21, 2017 from 6pm – 9pm as we announce the new Avo Cigar, the Ritmo!
It's the third release within the Avo Syncro series, and the first to contain tobacco from so many different countries. Yes, this Avo Syncro South America Ritmo highlights tobaccos from seven different countries, with a special emphasis on Brazilian leaf in the filler. "This fusion of tobaccos spanning across seven different countries of origin results in the most intense flavor profile within the Avo portfolio," Charles Awad, senior vice president and chief marketing officer at Oettinger Davidoff AG, said in a statement.
Covered in an Ecuadoran wrapper leaf, South American Ritmo also contains a Mexican binder and filler tobaccos from Nicaragua, Peru, Brazil, Honduras and the Dominican Republic.
The Avo Ritmo comes in four sizes: Robusto (5×50), Toro (6×54), Torpedo Largo (7×54) and Special Toro (6×60). Avo Syncro South America Ritmo, like all Avo cigars, is named after legendary jazz composer Avo Uvesian, who passed away this past March.
Event Deals!
-Buy 5 Avo cigars, get 2 Avo cigars free*
-Buy 9 Avo cigars, get 4 Avo cigars free*
-Buy a box of any Avo cigar and get 6 Avo Ritmo cigars + an Avo ashtray free*
-Raffle prize – Zino Humidor
*while supplies last
This event is free but you have to register! Click here to register today!